Reviews for Those Ancient Skies... Came Sweeping Wide:
Pulse of the Twin Cities, 1.01
Delusions Of Adequacy, 4.01
Geek America, 4.01
Action Attack Helicopter, 3.01
Interstate Zine, 3.01
Lost At Sea, 4.01

Splendid Ezine, 5.01
Slide The Needle, 3.01
-------------------------

Fred Weaver
Those Ancient Skies... Came Sweeping Wide
Fred Weaver has his own sonic vocabulary. Armed with a 12-string
acoustic guitar and enough venom to poison every punk in town, Weaver
spins his caustic yarns, telling not-so-cute tales from his skewed point of
view.
Often somber and unusually noisy, these songs are as cryptic as they are
discordant. There is an ambiguity to the lyrics that allows the listener to fill
in the blanks. Weaver exhibits the same math-rock approach all by himself
that bands like H. Chinaski, Nationale and Don Caballero have when
playing as a unit. Born in Baton Rouge, LA, Weaver moved to Clearfield,
PA in his youth. Weaver has experience playing with bands (Vineland,
Reddy Kilowatt), abandoning them to create these bleak-yet-vibrant sound
sketches. He attacks his guitar, blending sound, noise and harmony into a
haunting ragged tapestry.
The result is equal parts King Crimson and John Fahey. Comparisons to
the Minutemen would not be far off, either. On Present Dusk, Weaver
crafts moods both dark and weighty. Opting for a D-modal tuning on this
record makes for a lot of dramatic drones; the outcome is as intense as it
gets.
This stuff is NOT for the faint of heart. These recordings are jewels in a
junkyard of orderly pop music. Right now, Weaver is in the midst of
expanding his fanbase and is doing a bit of touring in support of his
releases. Present Dusk and Those Ancient Skies... Came Sweeping Wide
are both on Ace In The Hole Records. Check with your local independent
record store. They can also be ordered online from www. fredweaver.com.
- T. Alexander

--------------------------------------------------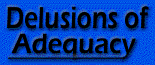 Fred Weaver
Those Ancient Skies... Came Sweeping Wide
Those Ancient Skies… Came Sweeping Wide is such an enigma of a CD -
The only comparisons I can make for Fred Weaver's acoustic-guitar based
solo release are to Bob Mould and J Mascis, although this disc really
doesn't sound all that much like either of them. Now, I know that acoustic
solo singer/songwriter discs are fairly commonplace in today's world of
basement studios and home CD burners, but to me, Fred Weaver's latest
release manages to somehow stand out as unique amongst the genre.
So, here's the deal. Fred's just a simple guy from Baton Rouge, La. who
likes to drive an insane amount of miles across the nation as often as
possible to play his way-cool acoustic rock tunes. When he finally arrives
at his destinations, I'm pretty sure that Fred ends up playing to groups of
people that are probably both: a) far too small and b) far too unappreciative
for the songwriting talent that he possesses. Such is the indie rock credo, I
suppose. Between road trips, Fred manages to pop into a Baton Rouge
studio every now and then to piece together tracks for his occasional
recordings. (Side Note: Fred's first release, Present Dusk, was released in
June of 1999; the next month he was already working on tracks that would
eventually become Those Ancient Skies…)
The disc is short (8 tracks, 24 minutes), simply executed, and
mind-numbingly good for all of its simplicity. "Letter Writer" kicks off the
disc with a flourish of Bob Mould-ish bravado and pained lyrics ("Letter
Writer at a thousand words a day/Did you want to win her back, but you
lost your heart at the twelfth revision?"). "Five A.M. and Skies at Tilly's"
slows down the tempo and makes for some powerful listening (especially
during the opening chords). "How On Woodland Rise" picks things up a
bit again, leading to a supreme moment held only by Fred's plaintive
vocals. When the guitars finally sweep up in the mix, you can almost feel
them sweeping Fred away from what troubles him, and the adrenaline rush
it creates is an ultimate payoff. "Snowdrift Dawn" is lyrically bitter ("Did
you trade your friends for bus station fare?/Was I the one that drove you
there?"), yet oddly mellow and collected musically. "Of Things" starts off
sounding like an acoustic Don Caballero (who, incidentally, are long-time
friends of Fred's) before furiously changing gears to a guitar romp. The
rocking "Montana, Minor Breakdown" gives in to the strangely melodic
"This Lake Superior," which ends with a disconnecting electric guitar
piece. "Beyond PascagoulaWith No One Else" ends the disc on a calmer
note, coming off like an early Dinosaur Jr. track (Homestead years),
winding down with a nice rhythm guitar break to end the disc.
Upon spending more time with the disc, the musical comparisons here are
pretty obvious, although not completely warranted. While Fred Weaver
does fit the mold of the "singer/songwriter with the 'unique' voice," Those
Ancient Skies …Came Sweeping Wide really does sound fresh for the
genre. Perhaps it helps that his song structures are diverse, as the tracks
here run the gamut from soft and sweet to "Husker Du Unplugged"
without ever missing a beat. Even better is the fact that nothing sounds out
of place in the mix - the slow, delicate guitars compliment the fast, abrasive
ones very well, while Fred's distinct voice adds a real sense of true
devotion to the music. Good stuff for the quiet-loving crowd here, and,
goodie for me - rumor has it that a "sister" EP of sorts will be released
shortly. Can't wait, can't wait, can't wait …

-- Gary Blackwell
--------------------------------------------------
Fred Weaver
Those Ancient Skies... Came Sweeping Wide
I think this is one of those records that is supposed to define you as
a person. You know, the one you see in somebody's collection and
instantly your perception of him goes from cute, clean cut
middle-management to entertaining the idea of taking him into a
back alley and ravishing him thoroughly. Anyway if you can't tell from
the complete DIY attitude conveyed (Fred is writer/musician/graphic
artist/publicist/booking agent/roadie in one) one listen makes it
obvious that Mr. Weaver is a cut above the norm, and I'm not about
to destroy the reader's perception of this latest record by trying to
pretend I can corner it's exact direction in one hundred words or less.
He's moody. He's pissed. And his weapon of choice is... an acoustic
guitar? On this rare occasion, I recommend you decide for yourself
what it's all about. But break out the dictionary, kids. Fred has
something to say and he's not mincing words.
- MC

--------------------------------------------------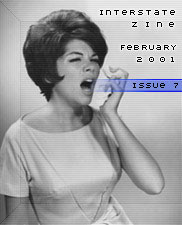 Fred Weaver
Those Ancient Skies... Came Sweeping Wide
Just a few soft strums to start off These Ancient Skies..., and then a
sudden swing into the heavy, sharply acoustic Weaver style.
Fred Weaver's new album, while clearly building on the unusual acoustic
style that made his first record, Present Dusk, so interesting, has moved in
a new direction with a much thicker sound.
The first track, "Letter Writer", is the most ambitious and consequently
uneven song on the album, as Weaver's ringing 12 string and thunderous
electric occasionally outpace his voice. The record seems to adjust to itself
by the second song, "Five AM + Skies at Tilly's", a slower, all-acoustic
number. "How on Woodland Rise" gets even better as he begins acoustic,
stops playing to sing what seems like the final line, and then explodes in
an epic chorus of electric guitar. The electric parts used throughout the
album, which might sound average on other band's albums, take on a
larger-than-life quality when paired with Weaver's understated acoustic,
elevating the record to a whole new level only hinted at in the minimalist
Present Dusk.
If there is one element used in Present Dusk that is missing here, it would
be Weaver's intriguing mid-album piano recordings, which kept his first
record's 12 tracks from becoming redundant. Weaver has spent the better
part of the last two years on the road, and there is little doubt it has
influenced his songwriting, as six of the eight songs mention time and/or
place in the title. Beyond that, his lyrics range from the traditional
singer-songwriter territory ("...and there's a fuck up with a phone / or
you're never really home") to more metaphorical musings ("The smell of
smoke, a tangle of nerves and the quick urge to retreat / In Waterloo the
major highway marked defeat")
After such impressive growth, it would be interesting to hear Weaver flex
his instrumental muscle with a full band backing him. On the other hand,
his loner approach and DIY studio and tour techniques may be part of the
key to what makes his music so different from the hordes of
singer-songwriter types out there. Whichever path he decides to follow,
Weaver will no doubt keep circling the country and representing the Deep
South with his unique and powerful acoustic style.
Rating: 8719 (out of 10000)
Erick Bieritz
--------------------------------------------------

Fred Weaver
Those Ancient Skies... Came Sweeping Wide
Fred Weaver is an aggressive man. Listening to this eight song disc, the
listener can hear Weaver mercilessly strumming his acoustic guitar like a
younger Bob Mould or Michael Stipe. Don't expect to hear some laid-back
coffeehouse solo act, though. This guy toured with Don Caballero, believe it
or not. And while he's not quite math-rock instrumentalism, he's closer to that
than to the puny little twerps who attempt music with their guitar on a Friday
night at some coffeeshop. Weaver is also passionate about what he does, as
it's obvious that he pours himself wholly into each strum and syllable. While
I'm not huge on his vocals and a set of lyrics would have been nice, too, I can
still appreciate this. Fred Weaver seems to be a man who is enthusiastic about
his music, understands how to take a common approach (a man and his
acoustic guitar) and add a twist to it (faster, harder and based on punk roots).
Nevertheless, I am sure that seeing Weaver in a smoky dive while sitting on
the floor gazing up at him jam on that six-string would be the best
environment to hear these songs.

-- Kurt

----------------------------------------

Fred Weaver
Those Ancient Skies... Came Sweeping Wide
Fred Weaver sure does get around. In the last couple of years he's played
about seventeen thousand solo shows in venues from Texas to Pennsylvania.
He just might be the hardest working Baton Rouge-based acoustic guitar
pounding art punk currently touring the states on a Greyhound bus! His
songs are raw and intense -- some might even say emo -- but don't let that
scare you. There's nothing affected about this guy; you can bet that the same
passion and frustration that he puts into breaking his guitar strings also keeps
him up at night. An intense guy banging on a guitar isn't exactly cutting edge
music, but it doesn't really matter. This is heartfelt, honest music -- there's
nothing wrong with that.
- IB


----------------------------------------

Fred Weaver
Those Ancient Skies... Came Sweeping Wide
Fred Weaver plays acoustic music. I'm going to try and create a scale to use
to place Weaver's music on the acoustic-indie continuum. Picture that the
map of strummed-rock is a compass, Lou Barlow's old sappy Sebadoh music is,
say, West. At the East is Pullman, Jim O'Rourke and other John
Fahey-influenced guitar pickers. These people usually keep in the same
volume level as Lou B, but fill their music with complexity and harmony. At
north are the twee-pop acoustic strummers, soft and simple with gooey,
smiling melodies. At the South peak is Fred Weaver. He has the emotional
sentiment that Sebadoh has, but his music is far more complex and more
importantly, louder.
In his bio, Weaver makes a lot out of trying to convert math-rock into an
acoustic format for his music. I don't know about that. Most of the more
complex parts of these songs work as the intros and bridges between the more
strum-oriented verses and choruses. What Weaver sounds closer to is to, say
a cross between Bob Mould and John Darnielle from the Mountain Goats, if
Darnielle could actually play guitar.
Weaver's voice moves from a melodic talking to a slightly strangled back of
the throat howl as he winds his way through these well written, somewhat
angry pieces. The songs typically have a 'you' in them that the song is
addressed to or are about: "You. You hollowed out your years"; "Your
feelings lost their way, but who was crying on the phone just the other
day." The anger in the pieces is usually applied to this 'you' but switches
back to the narrator as well. All of this is damn effective. His guitar-work
is surprising and interesting, ranging from sparkling to attacking. And the
impassioned tone of the songs is always matched by the intelligence of the
lyrics.
Despite the smart lyrics and impassioned singing, the acoustic setting puts
too much emphasis on Weaver's vocals, which are the weakest element of his
music. They crack a bit, but not in an interesting way like Will Oldham, and
they're often a bit flat. The major exceptions among these eight songs are
"Montana, Minor Breakdown", in which Weaver latches onto a strong rising
melody that's perfectly within his range, and "Beyond Pascagoula with No One
Else", which finds Weaver making the talking style more convincingly
melodic.
The singing holds me back from fully praising this CD, but it is good.
Really good. The songs are unlike anything else you'll hear, while still
maintaining a traditionally rock format. That in itself is impressive. I
feel that for all of Weaver's talent, this CD also showcases his limitations
working in the acoustic setting.

- Mathias Svalina
--------------------------------------------------

Fred Weaver
Those Ancient Skies... Came Sweeping Wide
This solo record is really interesting. I take it that this guy was into a
lot of mid 90's emo-hardcore-punk and what not and has produced it
into accoustic songs that possess the same feeling you would get from
that but accoustically. The intensity is still there. It's not bad, I think it's
a little much for me, but for days when feeling really pissed or just got
dumped listen to this and this'll be your cup of tea... (JK)